Greece agrees fresh bailout terms: Greek finance minister
Comments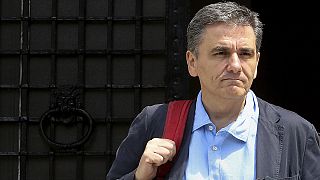 Greece has agreed fresh bailout terms with its international creditors according to the country's finance minister.
But Euclid Tsakalotos said "two or three small details" still need to be agreed.
An unnamed Greek official told the Reuters news agency that both sides had struck an agreement on how to address bad loans in the banking sector and the establishment of a wealth fund to handle privatisations.
The deal should keep Greece inside the eurozone – at least for now.
It will also help the country make a 3.2-billion-euro debt repayment to the European Central Bank on August 20th.
The accord is set to be approved by the Greek parliament on Thursday.
Then eurozone finance ministers are expected to give their backing to the deal on Friday.
Yet scepticism remains across the 19-country common currency area that a third bailout for Athens is the right move.
"Truth is the strongest force," said Finnish Foreign Minister Timo Soimi in an interview on August 8th.