Istanbul hit by attacks on police station, US consulate
Comments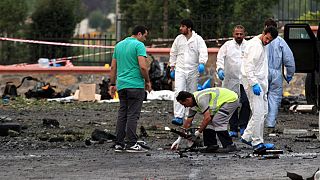 Turkey's biggest city, Istanbul, has been hit by two attacks.
Ten people were injured when militants detonated a car bomb outside a police station.
Police then fired at the attackers, killing two people.
On Monday, two attackers fired at the US diplomatic mission in the city.
There were no casualties reported.
Police later arrested a female suspect.
It is as yet unclear whether the attacks were carried out by an organisation, or individuals acting alone.
The attacks come at a time of heightened tensions between the Turkish government and Kurdish separtists.
Turkey has been launching air strikes against PKK fighters on both sides of its border with Iraq.