Mali hotel siege investigators look into 'jihadist links'
Comments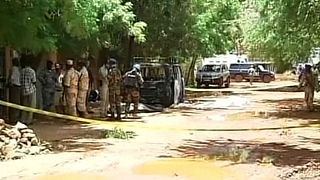 With no claim of responsibility for the hotel siege in Mali on Saturday which left 13 people dead, the inquiry is looking into possible jihadist links.
According to investigators telephone numbers and addresses found on the bodies of four suspects killed during the attack point towards Macina Liberation Front (FLM), an Islamist extremist group.
"At this stage there is no formal proof that it was the Macina Liberation Front (FLM), but strong suspicions point to this group that has been seeking notoriety at all costs," the source told AFP newsagency.
The FLM has claimed several attacks in the country since it surfaced earlier this year. It is believed to be linked to Ansar Dine, one of the groups which took over the north of Mali in 2012.
Four Malian soldiers, five UN workers and four suspected terrorists were killed in the attack on the Byblos Hotel in the town of Sevare. Two Ukrainians, a Nepalese and South African were among the casualties from the UN mission in the country (MINUSMA).
It is the latest in a spate of jihadist violence to rock the country despite a peace deal signed in June.