Singapore celebrates five decades of independence
Comments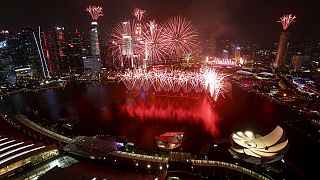 Singapore has been celebrating 50 years of independence, with a weekend of events.
President Tony Tan was among those marking the landmark.
A fly past and military parade were among the highlights.
Enjoying unrivaled economic success, Singapore is standing out in a region struggling with poverty and political instability.
Since going it alone from Malaysia in 1965, the island has become a global business hub and is the envy of nations around the world.
It is the second time this year that Singaporeans have come together to reflect how far the island has come, after they mourned the death of first prime minister Lee Kuan Yew in March.
The island's ruling party is hoping to capitalise on a feel-good factor. The next elections could be called as early as next month.