Haiti election marred by delays and sporadic violence
Comments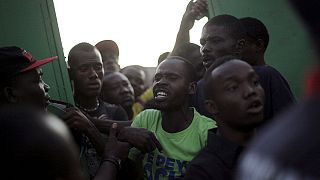 People in Haiti have been voting in parliamentary elections.
On Sunday voters at some polling stations in the capital Port-au-Prince vented their frustrations at lengthy delays in opening and fights broke out in at least three.
Elections were originally planned in 2011 but have been repeatedly delayed.
Around six million voters are electing 119 deputies and 20 senators. 1800 candidates are standing from a number of political parties.
President Michel Martelly, who is barred from standing again by the constitution, cast his vote on Sunday and took the opportunity to complain about the process.
"I hope that the election are better organised for the presidential elections", he told reporters.
Voters ransacked at least two polling stations, turning over furniture and trampling ballot papers across the floor.
The campaign in the run up to the election has been marred by violence.
A human rights organisation reported five election-related assassinations in the last month with another 26 people wounded.