Poll reveals Rousseff is most unpopular Brazilian president in three decades
Comments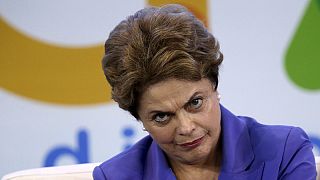 The clattering of pots and pans echoed through Brazil's towns and cities on Thursday night to coincide with a televised message by President Dilma Rousseff.
Brazil's leader has become the most unpopular president in the country since the 1980s. In a poll released on Thursday, over 70% of Brazilians consider Rousseff's government bad or very bad.
Just six months into her second term seven out of ten also would like to see Rousseff impeached.
The government responded by claiming opponents were exaggerating Brazil's economic downturn to destabilise a democratically elected president.
A political kickback scandal involving contracts at state-run oil company Petroleo Brasileiro has weakened Rousseff and her government.
Political analyst, Ricardo Ismael explained how, "the poll shows that Rousseff's popularity not only fell among those who didn't vote for her, but among those who did vote for her. That's where the problem lies. If we look at the northeastern region of Brazil the poll showed that 67 percent want her impeached because they believe that to be the only way out of this," he added
Confidence in Brazil has plummeted as it suffers its worst economic downturn in 25 years.
The government will be put to the test again on August 16 when a nationwide protest against Rousseff is set to take place.