Brazilians rattle pots and pans at Rousseff TV anti-corruption ad
Comments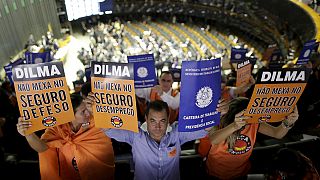 Towns and cities in Brazil came alive on Tuesday night to the sound of saucepans.
Across the country people banged on pots and pans – a traditional method of protest in South America – to show their contempt for the government's record on corruption.
It came as President Dilma Rousseff's left-wing Workers' Party aired a long TV advert claiming it was committed to tackling corruption and highlighting its achievements.
The ad said any party member convicted of wrongdoing would be expelled.
But it didn't mention directly an ongoing investigation into a multi-billion dollar corruption scandal involving the state oil company Petrobras.
On Tuesday one former executive blamed "bad politicians" when giving evidence to a parliamentary commission.
Last month Paulo Roberto Costa was convicted of money laundering and racketeering for his role in a kickback scandal which his testimony has helped expose.
"The origin, the genesis of this whole problem with Petrobras was here in Brasilia," he said. "There was a request for two million Reals (580,000 euros) for President Dilma (Rousseff)'s campaign."
The president, only a few months into her second term, is not being investigated herself but her ratings have suffered.
There are fears that economic fallout from the investigation into Petrobras could tip Brazil into recession this year.
There have been nearly 100 indictments and prosecutors say more than 600 million euros was embezzled.