Hopes fading of finding missing migrants from shipwreck in Mediterranean
Comments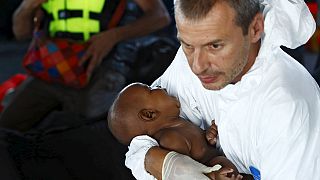 Hopes are quickly fading of finding further survivors from a shipwreck off the Libyan coast.
Rescue ships have been searching for an estimated 200 migrants missing in the Mediterranean when they came to the aid of more boats carrying migrants in the same area. If the deaths are confirmed the tragedy will have been the worst since 850 people were drowned in a similar incident in April.
Both the Italian and Irish navies, as well as Medecins Sans Frontieres, saved around 367 people from a fishing vessel that capsized. It was carrying mainly Syrians fleeing the country's ongoing civil war.
They were taken to the Italian port of Palermo.
Calm conditions have been encouraging the crossing of boats in recent days.
Police have detained five men suspected of having piloted the capsized boat and of playing a role in the trafficking of the migrants.
More than 2,000 refugees and migrants have died so far this year trying to reach Europe with figures from this summer showing the crisis is worsening.