Fighting intensifies as Turkey moves against Kurds inside Turkey
Comments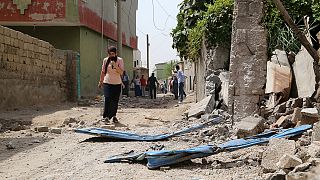 Three people have been killed and seven wounded in clashes between Turkish security forces and suspected PKK militants in the Kurdish town of Silopi.
In two other incidents two Turkish soldiers were killed in Van and Agri as tensions boil over between the Turks and Kurds putting a fragile peace at risk.
Since mid-July at least 21 soldiers have died in attacks blamed on the PKK Kurdish fighters
"The police must be withdrawn immediately and tension must be lowered. people have taken to the streets. We're concerned that the number of dead and wounded will rise. If that happens violence will spread to other cities across the country," said a Kurdish member of parliament.
The MP said he had seen no armed militants, contradicting official accounts of barricades going up and trenches being dug by armed groups.
The PKK claims the Turks are neglecting security in Kurdish areas targeted by Islamic State terrorists, which has led to many Kurdish and Turkish civilian casualties.