MH370: No closure for relatives after Reunion debris find
Comments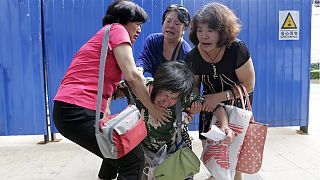 Reaction has been mixed following the announcement that the plane part found on Reunion came from missing flight MH370.
In Beijing families of those on board the aircraft gathered outside the offices of Malaysian Airlines in an atmosphere of sadness and anger.
Latest on missing Malaysia Airlines Flight 370: Analysts say more than 1 piece needed to solve flight's mystery http://t.co/cYgWrb25JM

— The Associated Press (@AP) August 6, 2015
"What does such a tiny piece of debris mean from a huge plane? Do they take us for fools? What is the reason? To force us to accept the compensation? We will not accept it," said a one relative.
Zhang Yongli is waiting for news of his daughter: "The next step is we will ask the Malaysian government and Malaysian Airlines to help us to go to Reunion. We will go to the site and check it out ourselves. We don't believe any of their words."
#MH370 relatives reject PM Najib Razak's announcement, ask for more investigation https://t.co/gwUObMq5PPpic.twitter.com/tFwklimNId

— CCTVNEWS (@cctvnews) August 6, 2015
In Malaysia relatives want the Malaysian authorities and the French investigators to coordinate the information they put out.
Families are furious after conflicting messages came out of Kuala Lumpur and Paris.
Jacquita Gonzales is the wife of a flight supervisor who was on board MH370: "It is not the end, although they found something, you know it is not the end, they still need to find the plane and our spouses, we want them back."
@CIA, where is #MH370? pic.twitter.com/At0XU84yQN

— MH370 News (@MH370News) June 8, 2014
Flight MH370 went missing on March 8 2014, with 239 passengers and crew on board.