Hiroshima holds 70th memorial of atomic tragedy
Comments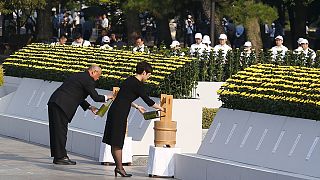 Hiroshima's Peace Memorial Park has seen the entire Japanese political class and friends from abroad turn out for a memorial service for the city, one of only two to ever suffer an atomic attack.
The 70th anniversary of Hiroshima's martyrdom has been used to produce a report condemning Japan's 1931-45 Asian war as "reckless", although the current Prime Minister, Shinzo Abe, is seeking to change the way Japan sees the period.
The city's Mayor prefers to remember history as it is written, in which his home stands for the abolition of weapons of mass destruction.
"I hope that the Japanese government will serve as a bridge between nuclear-capable nations and those without, and be at the forefront of nuclear disarmament discussions. And I propose that Hiroshima be the place to hold such discussions," said Kazumi Matsui.
For Hiroshima and Nagasaki the second world war is the war without end; survivors and many of those born since suffer the side-effects of radiation poisoning.
"I saw a terrible situation in the decade after the bombing. I saw people whose faces were deformed or people without arms. I really cannot describe with words the scenes I witnessed," said one elderly female survivor.
Hiroshima will certainly never forget the day in 1945 when the sun came to earth and the Motoyasu River boiled. The tragedy gave the city a sort of eternal status, and residents and most Japanese believe fervently the city should help ensure it is never repeated.