Hiroshima and Nagasaki horrors recalled, undiminished
Comments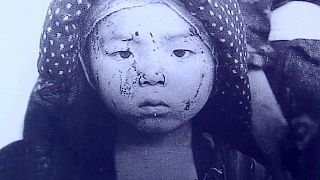 The dropping of atom bombs over the Japanese cities of Hiroshima and Nagasaki 70 years ago is given new focus in a special exhibition at American University in Washington DC.
Now I am become death, the destroyer of worlds.
The presentation challenges the commonly accepted account that the bombs' use was necessary so that American lives would not be thrown away in a full invasion of mainland Japan, which was rejecting surrender as the Second World War raged on in the Pacific.
US President Harry Truman then gave the order to unleash the secret weapon.
Curator Peter Kuznick is co-author of the book Rethinking the Atomic Bombings of Hiroshima and Nagasaki.
Kuznick told us: "The atomic bombs not only killed hundreds of thousands of innocent people unnecessarily during the war, but opened the door to the possibility of the annihilation of all life on our planet. And the thing that is so shocking to me is that Truman knew that this was the likely outcome."
The chief scientist of the Manhattan Project that produced the bombs, Robert Oppenheimer had quoted Hindu scripture: "Now I am become death, the destroyer of worlds."
Historian Martin Sherwin said: "Using those bombs in a war against what Oppenheimer called an essentially defeated enemy clearly legitimized nuclear weapons, motivated Stalin to do whatever he could to get a nuclear weapon as quickly as possible, started the arms race — and during the Eisenhower administration the build-up was horrendous."
The plane on permanent display at the Smithsonian Air & Space Museum in Chantilly, Virginia outside Washington was named after the pilot's mother.
The American University exhibition tours other US cities starting the second half of August.
Hiroshima was struck on August 6th, 1945 and Nagasaki on August 9th.
Our correspondent Stefan Grobe summed up: "The bomb drop over Hiroshima changed strategic thinking forever. The world has seen many armed conflicts since, but nothing like the horrors brought about by the plane behind me, yet fear of the bomb remains to this day."
Further interest
Film Hiroshima
Film Threads
Docu-drama The War Game
Documentary films about the atomic bombings of Hiroshima and Nagasaki