Deadly bomb attack inside security HQ 's mosque in Saudi Arabia
Comments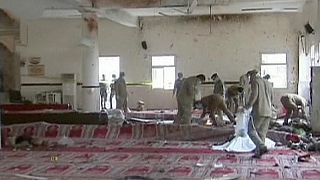 At least 15 people have been killed in a suspected suicide bombing in a mosque inside a security compound in Abha city, close to Saudi Arabia's border with Yemen. Extremists Islamic State have claimed responsibility.
Questions are being asked how the attacker got into the local security force's headquarters to attack their mosque. Most of the victims were servicemen.
The device was set off in the middle of prayers, and is thought to have been an explosive belt.
Abha is the capital of Asir province, and the bombing follows two deadly explosions in May when Islamic State claimed 25 lives in attacks on Shi'ite mosques. The extremist movement has called on Saudi Sunnis to attack Shi'ite targets and is trying to stoke sectarian violence in the entire Gulf region.
The province's governor visited injured victims in hospital in the first governmental response to the attack.