Deadline expires on Friday in Egypt for kidnapped Croatian worker
Comments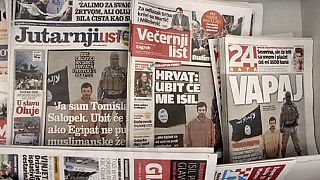 The new Suez canal may have opened to great fanfare but the future of the Croatian worker kidnapped by a terrorist group is far from bright.
Their deadline for Egypt to release a high-profile female militant expires on Friday. If she is not freed the group, the Sinai Province of Islamic State, says it will execute Tomislav Salopek, who works for the French oil and gas geology company CGG.
"It is terrible for a young man with two small children, it shook me up. I don't know how that man can be helped. I mean, couldn't we help him, is it possible to help him?" said one woman in Zagreb.
"I am sorry that this happened, but on the other hand it is not unusual since it was only a matter of time for something like this to happen; there are many people from here working in areas that have become very risky," said one young man.
The Sinai peninsular flanks the Suez canal, and Cairo is engaged in daily fighting with Islamic militants there which has cost hundreds of lives since the army toppled President Mohamed Morsi in 2013.