Pope Francis calls for church to welcome back divorced couples
Comments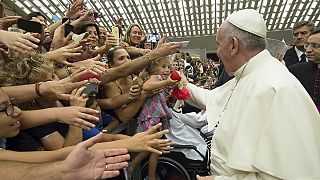 Pope Francis continues to make waves as the head of the Roman Catholic church.
His latest announcement, previously made in more intimate surroundings and in personal terms, has come in front of a general audience in a formal setting.
Pope Francis is calling on his priests to no longer refuse to give communion to people who have been divorced.
"How do we take care of those who, after the irreversible failure of their marriage bond, have taken up a new union? These people are not at all excommunicated. They are not excommunicated, " he insisted, "and they must not be treated as such. They still belong to the church."
His call comes just ahead of this autumn's General Synod on the Family, when cardinals from across the world will gather in the Vatican to debate the church's future direction.