Myanmar floods: International community responds to calls for aid
Comments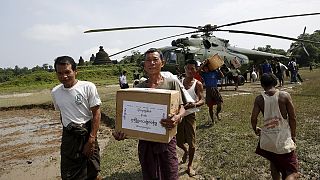 The international community is stepping up efforts to help flood-stricken Myanmar, which has appealed for aid after devastating monsoon rains.
Flooding and landslides have killed more than 60 people and affected over 250,000 – with homes and roads destroyed – leaving
lives and livelihoods in ruins.
The UN's World Food Programme says it has delivered aid to 82,000 people in the worst-hit areas of western Myanmar.
#News: @WFP's #MyanmarFlood response reaches 82,000ppl so far despite high waters+landslides. http://t.co/FImLTFv1PMpic.twitter.com/nMjOkqTGkP

— WFP Media (@WFP_Media) 5 Août 2015
And, as democracy icon Aung San Suu Kyi visited flood victims, countries including China, Japan and the US were responding to calls for assistance.
Myanmar's appeal for international relief marks a major change from 2008 when the then-military government shunned most outside help in the wake of Cyclone Nargis, which killed 130,000 people.
Japan, through the Japan International Cooperation Agency (JICA), said it would provide blankets, mattresses and plastic sheets following the government's appeal for help.
The Chinese embassy in Yangon has also been distributing relief supplies this week.