Migrant shipwreck: up to 300 missing after boat capsizes in Mediterranean
Comments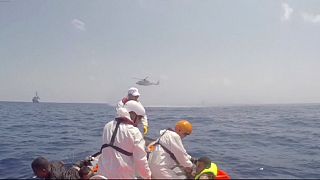 A boat carrying up to 700 migrants has capsized off the Libyan coast.
The Italian coastguard reports that 400 people have been rescued while 25 bodies have been recovered from the water.
Melissa Fleming, Head of Communications, at the United Nations Refugee Agency described how the incident occurred:
"Apparently this boat sent out a signal, made some phone calls. They were only 15 miles away from Libya so probably at the very beginning of their journey, and when they spotted a rescue boat, panicked, moved to the side and the boat capsized very tragically."
Irish rescue vessel, Le Niamh, and Dignity I, a boat operated by Doctors without Borders, were dispatched to the area. They were later joined by three other ships and a helicopter.
It comes as Tuesday marked a bleak milestone with the news that more than 2,000 migrants and refugees have died so far this year in attempts to reach Europe by boat.
In April, a boat carrying 800 migrants sank off the Libyan coast, the UN called the incident the deadliest ever recorded in the Mediterranean.