Iran nuclear deal: Obama and Netanyahu make competing appeals to US Jews
Comments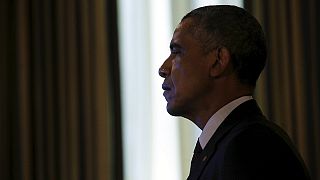 President Barack Obama has reportedly told Jewish leaders in the US that it is likely rockets will fall on Tel Aviv, if a nuclear deal with Iran is blocked and military action follows.
You'll see more support for terrorism. You'll see Hezbollah rockets falling on Tel Aviv.
America's administration says the accord is the only way to avoid eventual war with Tehran.
Greg Rosenbaum, one of 20 Jewish leaders who met Obama at the White House on Tuesday, said on Israel Radio that the president spelled out what exercising a US military option to strike Iran's nuclear facilities would mean if the deal between world powers and Tehran was scrapped.
"He said military action by the United States against Iran's nuclear facilities is not going to result in Iran deciding to have a full-fledged war with the United States," Rosenbaum, of the National Jewish Democratic Council, quoted Obama as telling the forum.
"'You'll see more support for terrorism. You'll see Hezbollah rockets falling on Tel Aviv.' This is what he said would happen if the US had a military strike on Iran," Rosenbaum said, referring to the Iranian-backed Lebanese group and its long-range missile arsenal.
In a separate appeal, Israeli Prime Minister Benjamin Netanyahu, has said the nuclear deal "paves Iran's path to the bomb" – and could spark a catastrophic Middle East conflict.
"I don't oppose this deal because I want war. I oppose this deal because I want to prevent war. And this deal will bring war. It'll spark a nuclear arms race in the region and it will feed Iran's terrorism and aggression," he said in a webcast.
The nuclear deal struck last month will see international sanctions lifted.
A steady stream of European officials have visited Tehran since, including Italy's foreign minister.
The Republican-led US House of Representatives will vote on whether to reject the agreement when lawmakers return to Washington in September, party leaders said on Tuesday, setting up a showdown with the president.