Aircraft debris found on Réunion confirmed from flight MH370
Comments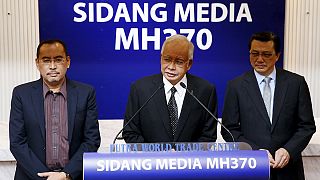 The first piece of wreckage from the first-ever lost Boeing 777, which vanished back in early March along with 239 people on board has been found, thousands of kilometres from where the missing plane was being looked for.
"It is with a very heavy heart that I must tell you that an international team of experts has conclusively confirmed that the aircraft debris found on Reunion Island is indeed from MH370," said Malaysian Prime Minister Najib Razak.
Ocean currents are thought to have carried the flaperon section of the wing across the Indian ocean to the French island, far from its flight path and last radar position.
In Toulouse a French public prosecutor reporting the work of the multinational team of experts was less emphatic.
"We have been able to make a reasonable match between the debris and the Boeing 777 wing of flight MH370. It is extremely likely but this needs to be confirmed by more detailed analysis which begins on Thursday," said Paris Deputy Public Prosecutor Serge Mackowiak.
Expert investigators added a fragment of a suitcase found nearby also needed thorough analysis.
The trail of the missing plane, bound for Beijing from Kuala Lumpur before it veered off course and radar contact was lost, has been hard to pick up.
But the crash has left an all-too-visible trail of devastated mostly Chinese families behind it, controversy over the methods used to try to find the aircraft, and the resources made available for the search.