Turkey struggles in sweltering summer heat
Comments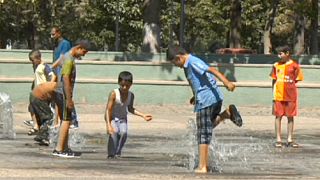 Turkey is basking in a heatwave. In some parts of the country, including Adana in the southeast, the thermometer has been hitting 50 degrees celcius.
For some residents and visitors, it's too much to bear – with shady spots and swimming pools now in great demand.
"We are coming here. Trying to escape from the heat," said one man, sitting on a bench under a tree.
Another man added: "We're here for at least one to two hours. The hot weather is very difficult."
Turkey is not alone. Poland is another country in the grip of soaring temperatures.
Weather forecasters are expecting records to be broken this coming weekend, with temperatures expected above the 40 celcius mark in south-western areas.
Medics are warning people to take extra precautions to keep cool and healthy.