Talks on Ukraine take place despite escalation in fighting
Comments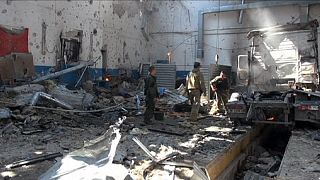 The Ukrainian military said on Monday that four of its soldiers were killed and 15 wounded in fighting with pro-Russian rebels in the previous 24 hours.
A spokesman said the most intense fighting has been in western districts of rebel-held Donetsk in the east of the country.
The highest casualty figures in a fortnight came just before talks on a ceasefire were due to start.
Representatives of Ukraine, Russia and the rebels met on Monday in the Belarus capital Minsk for talks on implementing a ceasefire brokered in February.
The talks are being overseen by the Organisation for Security and Cooperation in Europe.
The February deal has been consistently violated however despite the OSCE presence.
According to news agency Reuters, 29 Ukrainian soldiers were killed and 175 wounded in July alone in the eastern territories.