Saudi King cuts short French holidays after beach row
Comments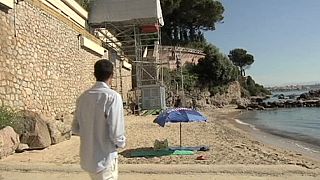 Saudi Arabian King Salman has cut short his planned three-week holidays in France, after just a eight days.
It comes after some 150,000 residents of the French riviera town of Vallauris signed a petition over the closure of a public beach outside his villa.
Beachgoers welcomed the news that the sandy strip was now reopened to the public, but some didn't see what the fuss was all about.
A Saudi source quoted by Reuters newsagency said that the change of holiday plans was not linked to the media storm that his visit triggered. Local council Jean-Noel Falcou who lodged the petition felt it breached laws on equality.
Not everything can be bought. .We have never fought against the coming and goings of any millionaires. We have fought against the fact that a millionaire one can bend the French laws."
Though the waters may be calm for now, the Saudi King said that he hoped his schedule next year would allow for a visit to nearby Cannes, which could prove another test for French-Saudi relations