Nigeria: Army says it has freed 178 Boko Haram captives
Comments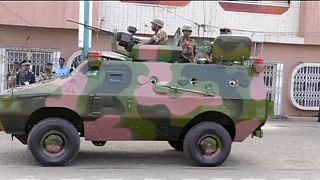 Nigeria's army says it has rescued 178 people held by the Islamist militant group Boko Haram.
It said the captives – more than 100 of them children – were liberated in northern Borno state, the heartland of the insurgency. The military said 67 of those freed were women.
A Boko Haram commander is also said to have been captured and several camps cleared in the military operation.
President Muhammadu Buhari has pledged to eradicate the group which has killed thousands of people in a six-year insurgency in Nigeria's northeast. It has also been blamed for deadly attacks in neighbouring countries.
A joint taskforce of 8,700 troops from Nigeria, Cameroon, Niger, Chad and Benin was due to have started operations against the Islamists on July 31 but it has been dogged by a lack of funding and political resolve.
More than 200 girls are still missing after being abducted by Boko Haram from a school in Chibok in Nigeria in April 2014.
Boko Haram is fighting to establish an Islamist state adhering to strict Sharia law.