Moroccan man found dead in suitcase at Spanish ferry port
Comments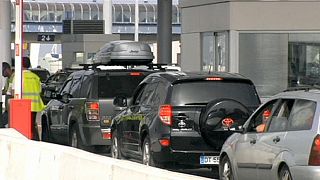 A Moroccan man is said to have suffocated after stowing away in a suitcase for a ferry crossing to Almeria in Spain.
The 27-year-old was found in the boot of a car, which arrived from Melilla – a Spanish enclave in North Africa.
The owner of the vehicle, the dead man's brother, has been arrested, according to government officials.
He reportedly raised the alarm about the stowaway's condition when the ferry docked.
Emergency services were unable to revive him.
The death in Almeria comes as Europe faces a migrant crisis. Many are fleeing poverty and violence in the Middle East and Africa.
Earlier this year, an eight-year-old boy from Ivory Coast was also discovered in a suitcase.
His image was picked up during a security check in Ceuta, another Spanish enclave in North Africa.
The boy was later reunited with his mother. She lives legally in Spain and her son was granted a temporary residence permit.