Journalists in Mexico rally over press intimidation after photographer murder
Comments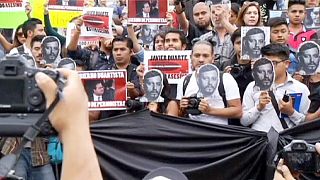 Media workers, activists and supporters held a rally in Mexico City protesting over the murder of press photographer Ruben Espinosa.
If you tell the truth they kill you
Many carried cardboard cut-out photos of the victim.
He was one of five people found shot dead in an apartment in the city on Friday.
Espinosa had recently arrived in the capital from Veracruz state where he claimed he had felt threatened by the governor Javier Duarte.
"More than one hundred journalists have been murdered", said Jose Reveles, a journalist at the rally in Mexico City. "That is why Mexico has been named the second or third most dangerous place in the world to be a journalist. Unfortunately the state of Veracruz is where most of the cases are."
"If you tell the truth they kill you", said journalist Christine Guerrero. "And the journalists who haven't been bought, they kill us, make us disappear. So what can we do? Tell me. I don't know, I just don't know."
Espinosa, who was 31, had specialised in documenting local social movements in Veracruz often for the prominent magazine Proceso.
Many of his reports were critical of Governor Duarte and the ruling PRI party.