US-Egypt relations return to 'stronger base' says John Kerry
Comments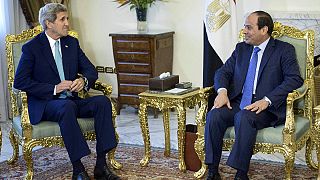 US secretary of state John Kerry has said that the United States and Egypt are returning to a "stronger base" in bilateral ties. Speaking after talks with his Egyptian counterpart on Sunday (August 2), he said that was despite tensions and human rights concerns.
His Egyptian counterpart told reporters that there were some differences in points of view, which he said is natural.
"The dialogue contributed in reviewing bilateral relations, presenting new ideas that will define relations between the two countries in the future mostly in the fields of Military and Security cooperation," said Sameh Shoukry.
Cairo remains one of Washington's closest allies in the Middle East.
Sunday's talks were the first between the two nations since 2009.
"We talked in a very honest way about the challenges of fighting back against terrorism even as you are trying to build a political process that can be inclusive and provide citizens the opportunity to build their own future," said John Kerry, US Secretary of State. "We agreed that we must explore opportunities to expand our security relationship."
Relations cooled after president Mohamed Mursi was overthrown in 2013 by the military amid mass protests against his rule.
Euronews corresponsent Mohammed Shaikhibnrahim reported: "The warming in Egypt-US relations comes in part due to the their common enemy: rampant terrorism in the Middle East. But that does not invalidate other outstanding issues between the two nations, such as concerns over human rights."