Taiwanese protesters march against controversial textbook changes
Comments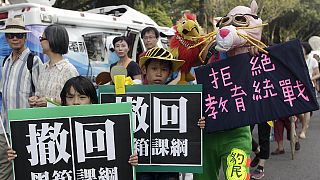 Hundreds of Taiwanese protesters have marched through the streets of Taipei to vent their anger over revisions to high school textbooks.
Students claim the changes present a warped version of history, slanted toward China and are aimed at brainwashing them to accept a "one China" policy. They want the revised curriculum scrapped.
Sunday's protest came after hundreds of students stormed the ministry of education compound on Friday, after one committed suicide earlier in the week.
The demonstrations reflect a surge of nationalism among Taiwan's youth, who are far more likely than their elders to identify as Taiwanese rather than Chinese.
Beijing regards Taiwan as a renegade province and has not ruled out the use of force to bring the island under its control.