LGBT activists arrested in Russia amid paratrooper celebrations
Comments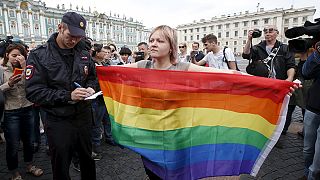 Several LGBT (lesbian, gay, bisexual, transgender) rights supporters have been arrested in the Russian city of St. Petersberg.
Several ex-paratroopers, who were celebrating Russian Airborne Troops' Day, attacked the supporters.
"We will beat up all these gays, we will beat them up. We are airborne troops, we are from the 76th Air Assault Brigade," said one.
Paratroopers Day in #Russia. Although wouldn't look out of place at any Gay Pride rally #photographypic.twitter.com/T5Pxp1VQtv

— Rob The Bruce (@robster38) August 3, 2013
Pride Celebration Denied
The campaigners were protesting against the city authority's continued refusal to allow a gay pride parade to be held in St. Petersburg.
"I am a human being and I want to be respected. I have my own pride and that's why I am standing here now," said St. Petersburg gay activist, Alexei Nazarov, after police pushed away another paratrooper who tried to attack him.
A female activist was taken to a police van after she unfurled a rainbow flag, while a young man was also detained.
"I am proud of who I am and I am worried about the person who was detained today," said Nazarov.
Another gay activist unfurled a poster condemning the city administration for refusing to allow a gay pride parade in the city.
Ex-paratroopers tried to attack him, but were held back by police.
City authorities said three gay activists were detained.
The LGBT community has come under increased pressure in Russia as President Vladimir Putin has charted a more conservative course since starting his third term in 2012.
Russia has been widely criticised for its infringement on the human rights of gay people.