Firefighter dies as forest blazes rage across California
Comments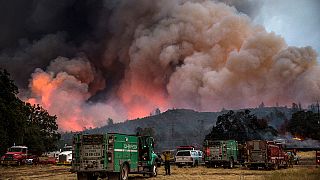 A firefighter has been killed and hundreds of people have fled their homes as forest fires rage in California.
More than 20 blazes – many sparked by lightning strikes – were burning across northern areas on Saturday.
Around eight thousand firefighters have been battling the flames.
Their job has been made difficult by several years of drought that have dried out California.
The fires have prompted Governor Jerry Brown to declare a state of emergency and activate the California National Guard to help with disaster recovery.