Scuffles at British side of Channel Tunnel in Kent over Calais migrants
Comments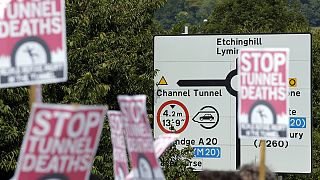 Tensions ran high on Saturday as far-right protesters gathered close to the scene of a pro-migrant rally in Folkestone, near the entrance to the British side of the Channel Tunnel.
Police drove back several members of the "Britain First" far-right group as they tried to cross the road towards the pro-migrant rally.
"We do not stand for uncontrolled immigration," explained one far-right, anti-immigration protester. "Immigration yes. But controlled immigration OK. So people come through to our country and they are educated and they can speak English and they've got a skill, that means they can work in the country. That means they can work in the country. That means they can pay tax to the country."
The pro-migrant protesters later marched carrying signs reading "Stop Tunnel Deaths".
"Britain doesn't play its full part in taking the amount of asylum seekers and refugees that there are," said one unnamed pro-migration protester. "So I think the response to the people who are trying to get through is dreadful and I just wanted to say."
Thousands of migrants have been scaling fences in Calais, near the French entrance to the Channel Tunnel, hopping on freight trains or trucks destined for Britain.
Nine people have been killed attempting to get through the tunnel under the English Channel in the last month, according to Eurotunnel.