European Youth Olympic Festival – final day
Comments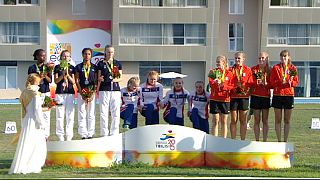 Local favourite Onise Saneblidze produced a stunning performance to beat Russia's Aliumer Tumaev in the under 90 kilo final in Tbilisi as the European Youth Olympic Festival drew to a close on Saturday.
France dominated the 100m relay with Luc Bertrand, Simon Boypa, Marc-Antoine Saban and Florian Barbier crossing the finish-line in an impressive time of 42.11 seconds to secure the title ahead of Spain.
Les Bleus came close to striking gold again in the girls' event but it wasn't to be as Norway produced a solid display to triumph in a time of 46.54 seconds.
France came second with Belgium completing the podium.
Elsewhere Great Britain's Joe Connor Fraser kept his composure to clinch the boys' parallel bars event.
The young sensation outclassed Ukraine's Eduard Yermakov while France's Kevin Carvalho had to settle for third place.