Crew member missing after ferry fire off Japanese coast
Comments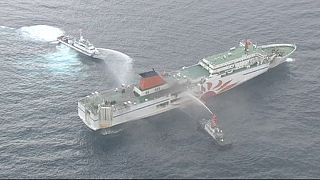 One crew member is missing after a passenger ferry caught fire off the northern Japanese island of Hokkaido.
Everyone else onboard was rescued after taking to life rafts. They were picked up by nearby boats.
Back on dry land, passengers recalled a terrifying ordeal.
"The smoke and heat were terrible. The fire was really intense," said one man.
The fire reportedly broke out on a truck, on a lower cargo deck.
The ferry was around 50 kilometres away from its destination of Tomakomai.
The missing crew member is believed to have stayed onboard to tackle the flames.