Aung San Suu Kyi welcoms Angela Jolie to Myanmar
Comments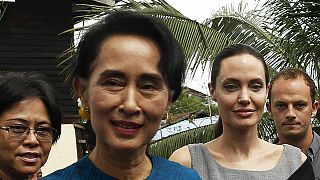 Myanmar's opposition leader and Nobel Peace Prize winner Aung San Suu Kyi has welcomed American actress Angela Jolie to her country.
The two met with female workers in Myanmar's capital city of Rangoon on Saturday to find out about their working and living conditions.
The women live in low-cost hostels in the city's industrial zone.
The British Embassy said the actress wanted to learn more from the people "about their concerns and hopes for the future of their country."
Jolie met the country's president Thein Sein during her trip and visited a camp sheltering people displaced by ongoing violence.
She is in the country on a four-day visit as Special Envoy from the UN refugee agency (UNHCR).