Venezuela opposition group favourite to win December vote
Comments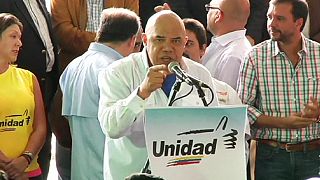 The leader of Venezuela's opposition Mesa de la Unidad Democrática (MUD) has addressed supporters at a rally in the capital Caracas.
Jesus Torrealba said that National Assembly President Diosdado Cabello will not be in power after December's parliamentary elections.
"It will be without Cabello. That's how the next National Assembly will be." Refering to Cabello's name, which is says it will be "without hair."
"Why?," he adds. "Because of the decision of the people who want change, and unity of the [opposition]political parties, that have taken on this historic challenge."
Some 29 opposition groups will appear under a single ticket for the vote. For the first time in 16 years, the opposition is the current favourite to win.
Cabello dismissed that popularity during his weekly television show.
"They've decided on a single-party ticket. But that means absolutely nothing, it's not a gesture of unity. We know who is giving orders to the people of the opposition, their chiefs of imperialism who do not want peace here in Venezuela, but you can go, together, as you want, keep close to each other, but we will win just the same," Cabello said.
Venezuelans have faced chronic food shortages for months, and increasingly higher prices for basic goods amid a deep economic crisis.
That has battered the popularity of the country's ruling party.