French ferry workers burn tyres to block Calais port
Comments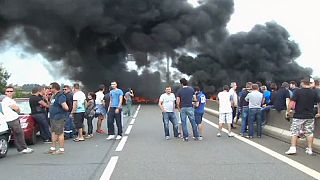 The security situation around Calais due to the ongoing migrant crisis was little aided by protesting French ferry workers who again severely disrupted access to the port.
They burned tyres across a major road and launched go-slow operations elsewhere.
Ferries continued to operate with some delays and the Channel Tunnel remained open.
Three sides of Calais I saw in 24 hours: striking ferry workers start fire blockade of the port;… https://t.co/I1PoPMp6FA

— Josh Halliday (@JoshHalliday) 31 Juillet 2015
The protest came as a French court declared their employer SCOP SeaFrance bankrupt, confirming the loss of almost 600 jobs.
The company no longer has a contract to run ferry services for Eurotunnel's subsidiary MyFerryLink, which has ceased to operate. Two of three ships are being sold to new Danish owners DFDS by Eurotunnel, which was found by UK regulators to be breaking competition rules.
During the process the attitude of SCOP SeaFrance representatives was criticised by Eurotunnel and DFDS.
Following tortured negotiations involving the French government, there are proposals for the various parties to keep on almost 400 workers.
But it has not been enough for the protesters who are planning more disruption.