IOC blasts Boston for breaking Olympic bid promises
Comments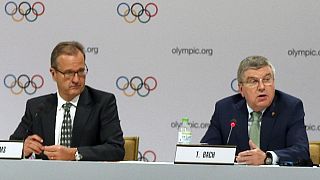 The International Olympic Committee blasted Boston on Wednesday for failing to deliver on its promises when first put forward by the U.S. Olympic Committee as a bidder for the 2024 Summer Olympics.
Boston was initially chosen by the USOC to be the American candidate for the 2024 Games, but following the refusal of the city's Mayor to commit to bidding for the multi-sport event, had its application rescinded in dramatic fashion.
The decision was made after Boston Mayor Marty Walsh had said he would not pursue a bid for the Olympics if it meant that taxpayers would have to foot an estimated $8.6 billion bill.
Boston's withdrawal would have conjured up painful memories for the IOC, who suffered the loss of four candidates for the 2022 Winter Games when financial concerns prompted them to pull their bids in similar fashion.
Only two former Soviet countries, China and Kazakhstan are now left in the race to host the winter edition of the IOC's most lucrative product.
"What we could see in a nutshell, what happened there is that Boston did not deliver on promises they made to the USOC when they were selected," IOC President Thomas Bach said in a press conference in Malaysia, where the host for the 2022 Olympics would be selected.
"Therefore we can understand the decision by USOC and we are looking forward to an American bid with another city.
"I gave up following it," Bach said of the various developments, both positive and negative, which plagued the Boston bid. "It was pretty confusing. Every day, there was a new project coming from Boston or new people and new ideas. I really gave up following it in detail."
Massachusetts officials greeted the USOC's move with relief, having in recent months been the target of opposition groups, while opinion polls put public support for the bid at below 42 percent.
Bach, however, said he still expected a U.S. bid, as the USOC had previously "committed" to submitting a candidate for the 2024 Games.
"For us the situation has not changed," Bach said. "We had a commitment from USOC for an Olympic candidature for 2024."
"We have this commitment and we are sure that USOC will deliver on this commitment, and that we will have on Sept. 15 a bid from the United States. I have no reason to doubt this commitment by USOC."
Los Angeles, which hosted the Olympics in 1984 and seen as the strongest choice, has since expressed a strong interest in taking Boston's place to compete against Rome, Paris, Hamburg and Budapest, who already have confirmed bids.
Bach declined to comment directly when asked if Los Angeles was his personal choice.
"Los Angeles is the ideal Olympic city," claimed Los Angeles Mayor Eric Garcetti on Monday. "I would be happy to engage in discussions with the USOC about how to present the strongest and most fiscally responsible bid on behalf of our city and nation."
But with the September 15 IOC deadline looming, Los Angeles will have to move fast to put together a bid and save the USOC from further embarrassment.
The 128th IOC Session runs from July 28 to August 3 in Kuala Lumpur, Malaysia.