Outrage after Zimbabwe's Cecil the lion is killed by an American dentist
Comments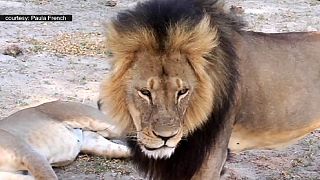 An American dentist accused of hunting and killing Cecil, a famous lion in Zimbabwe has expressed regret and claims he had no idea the lion was a local favourite.
Thirteen-year.old Cecil was a popular attraction at the Hwange National Park and appeared in many photographic shoots.
It's believed he was killed after being allegedly lured outside the park boundary.
His death has set off a wave of .outrage.
What are authorities in #Zimbabwe doing about the death of #CecilTheLion? http://t.co/H0BhO28aPqpic.twitter.com/l6jzOMJOAD

— Anderson Cooper 360° (@AC360) July 29, 2015
News that the hunter had been identified as Walter James Palmer prompted angry reactions against him on Facebook and other social media.
Investigations show that the killing of Cecil was illegal because the land owner where he died was not allocated a lion on his hunting quota for 2015 – according to Zimbabwe Parks and Wildlife Management Authority.