Amnesty International claims Israeli military committed war crimes during Gaza conflict
Comments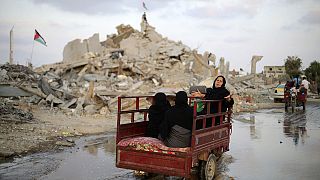 There is "strong evidence" of war crimes commissioned and committed by the Israeli military during the conflict in Gaza last year. That's a conclusion in a report published by Amnesty International.
The Human Rights NGO focused on air and ground attacks by the Israelis in Rafah between August 1 and 4th when it was believed Hamas fighters had captured an Israeli soldier alive. The bombardments, it's claimed killed at least 135 civilians in one day.
"It was the deadliest attack carried out by the Israeli military during the 50-day conflict in 2014. The Israeli military unleashed massive fire-power, massive bombardment of the southern city of Rafah, resulting in the highest number of civilian casualties on any day during the conflict," said Philip Luther, Middle East and North Africa Director of Amnesty International.
The study was carried out in partnership with the London-based Forensic Architecture, a research project specialising in spatial analysis.
They built up a 3D model of Rafah, analysing shadows and smoke plumes as well as testimonies from Palestinian civilians.
Eyal Weizman, Director of Forensic Architecture explained the work: "We are like architectural detectives. What we do is that we go into war zones, into situations where human rights were violated or war crimes were alleged to have taken place and we look at the traces that that violence leaves on buildings."
Hamas is demanding action. The report, the militant group believes should be sent to the International Criminal Court.
"This requires accelerating the presentation of all this evidence to the International Criminal Court and national courts to quickly take punitive measures against the Israeli occupation," opined Fawzi Barhoum a spokesman for Hamas.
But Amnesty built a "false narrative," was the official Israeli reaction.
"We believe that this report is totally false in its method and also in its conclusion. The report isolates one particular area in Gaza claiming that Israel attacked this area without any reason, while we know that this was part of an ongoing war zone," Emmanuel Nahshon, Israeli Foreign Ministry spokesman told reporters.
Israel says it was already investigating incidents which occurred in Rafah during the report's time-frame which could be used in any future criminal investigation.
But despite the claims by Amnesty and other human rights organisations that both Israel and Palestine committed war crimes neither side has held anyone to account.