Kerry insists Iran will be under "enormous constraints" under nuclear deal
Comments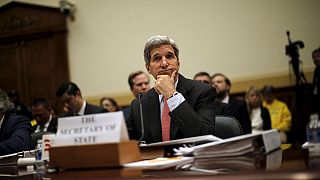 John Kerry is attempting to convince Congress to support the nuclear deal struck with Iran.
The US Secretary of State has answered questions before the House of Representatives Foreign Affairs Committee.
The Republican-controlled Congress has until September the 17th to give its verdict on the agreement: either endorse or reject it, or decide to do nothing, meaning it would come into effect.
Kerry maintains Iran will be kept in line.
"They are forever under enormous constraints here, with respect to inspections and accountability," he told the committee.
"They have to provide accountability for all the nuclear research and development activities not involving nuclear material, manufacturing and production of sensitive technology, centrifuges, rotor components, construction of parcels usable for plutonium separation, uranium mines, concentration plants, nuclear waste, all kinds of things."
Kerry was joined by two other members of the Obama cabinet: the Treasury and Energy Secretaries.
They have already testified in the Senate and the Defence Secretary will speak to lawmakers later this week.