EU foreign policy chief in Iran for discussions on implementing nuclear deal
Comments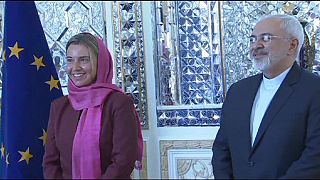 After striking the agreement, now comes another tough part: how to win support around the world and implement the accord effectively.
The European Union's foreign policy chief is in Iran as part of efforts to ensure a nuclear deal agreed to this month actually leads to something that is concrete and acceptable.
Federica Mogherini told a media conference:
"My personal commitment is exactly this one: to pass a message to all of this region: to the Gulf, to the Middle East, but also to the international community at large, and to the European Union, that this agreement is an agreement that is going to improve the security, first of all of this region, being a non-proliferation agreement, and being an agreement that is a solid one, a good one"
Euronews' correspondent in Tehran, Javad Montazeri, reported: "Iran has literally turned into the crossroads of diplomacy in the region; last week the German Vice Chancellor, today Federica Mogherini, and next France's Laurent Fabius.
"It shows the determination of Iran and the West to enforce an agreement achieved after long and exhausting negotiations."