Bobbi Kristina Brown, Whitney Houston's daughter, dies
Comments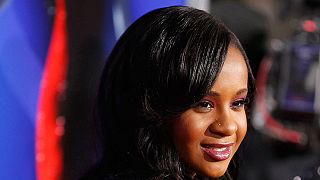 The daughter of the late singer Whitney Houston has died at the age of 22.
Bobbi Kristina Brown had been in a medically induced coma for six months after suffering irreversible brain damage.
Last January Brown, who was the only child of Whitney Houston and R&B singer Bobby Brown, was discovered face down and unresponsive in a bathtub.
Rest In Peace to the beautiful #BobbiKristina, who passed away tonight: http://t.co/YbofjkQVPX Via MicNews</a> <a href="http://t.co/s2xKFumX6Z">pic.twitter.com/s2xKFumX6Z</a></p>&mdash; Chris Riotta (chrisriotta) July 27, 2015
She was discovered by her husband Nick Gordon but at the time it is said that she didn't appear to be breathing and lacked a pulse before emergency services arrived.
A month ago she was moved to a hospice in the city of Duluth, Georgia, after her condition deteriorated.
Her death comes three years after Houston, who battled substance abuse, drowned in a bathtub in Beverly Hills. Cocaine use and heart disease are said to have contributed to her death.
Her daughter was hospitalised twice with anxiety after her mother died.
Peace at Last! #BobbiKristina

— Oprah Winfrey (@Oprah) July 27, 2015
Heartbroken over REALbkBrown</a> RIP sweet baby girl! U R at peace w/God! God reveal the truth!&#10;<a href="http://t.co/CsE5sUaV6g">http://t.co/CsE5sUaV6g</a> <a href="http://t.co/fa7GDRZtrN">pic.twitter.com/fa7GDRZtrN</a></p>&mdash; Ruby Gettinger (RubyGettinger_) July 27, 2015