Sex, drugs and 'shocking' behaviour: Lord Sewel steps down amid allegations of lewd conduct
Comments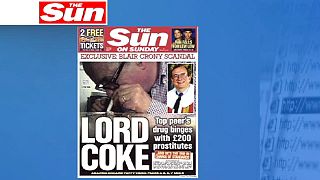 Britain's House of Lords is facing scandal following the resignation of Deputy Speaker Lord Sewel.
A video has emerged allegedly showing him snorting cocaine through a five-pound banknote at a party with prostitutes.
The 69-year-old married man also appears to be wearing little more than a bra and open jacket.
British tabloid The Sun broke the story. The disgraced Lord has resigned from parliament entirely.
House Speaker Baroness D'Souza confirmed he has also stepped down from his post as chairman of the Lords privileges and conduct committee, a group put in place in the seventeenth century to ensure fellow Lords behaved properly.
The man that is paid to uphold standards of behaviour among peers. #Comedyhttp://t.co/eRxMbEGn0Spic.twitter.com/LLvJyapvJW

— Danny Dutch (@DannyDutch) July 26, 2015
D'Souza labelled Sewel's reported conduct "shocking and unacceptable."
He has been suspended from the Labour Party pending an investigation into the allegations.