Al-Shabaab claims responsibility for Mogadishu hotel bombing
Comments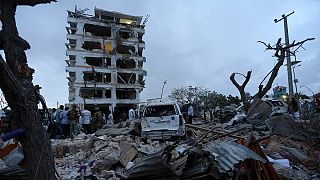 The Somali militant Islamist group al-Shabaab says it was behind a massive bomb explosion at a hotel in the country's capital Mogadishu.
At least 13 people died in the blast and 20 more were injured when a car packed with explosives was driven at the gate of the Jazeera Palace Hotel .
A witness described the scene as one of complete devastation.
The hotel is often used by international diplomats and has been targeted on previous occasions.
Al-Shabaab, which is linked to al Qaeda, claims the attack was in response to numerous assaults by an African Union force and the Somali government.
The group which wants to impose its strict interpretation of Islam on Somalia, killed a lawmaker, bodyguard and an official from the prime minister's office in two attacks on Saturday.