Houthi militants reject Saudi-coalition truce in Yemen
Comments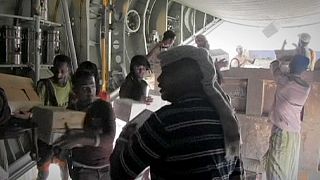 Forces fighting with the Saudi-led coalition fought Houthi militia for control of Yemen's largest air base north of Aden.
The violence continued just hours ahead of a truce declared by the coalition.
However, the five cease-fire was cast in doubt after Houthi rebel leader Abdel Malek al-Houthi reportedly rejected it. He argued that it would only benefit Islamic State and Al Qaeda militants.
The truce had been called with the aim of allowing crucial humanitarian aid to be delivered.
In a country of 25 million people, aid agencies say now 80 percent are in need of some form of aid.
The Saudi-led coalition has been bombing Houthi fighters allied to former president Ali Abdullah Saleh since March 26.
Four months of air raids have killed more than 3,500 people in the war-torn country.