[Watch] Rubbish crisis forces residents to wear face masks in Beirut
Comments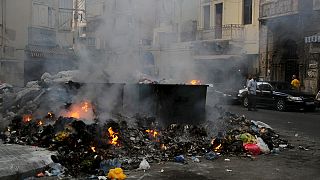 Residents in Beirut are venting their anger over a rubbish crisis.
Officials are struggling to reach an agreement on where to dump waste, with the closure of a major landfill site last week.
Attending a protest over the crisis, resident Mohammad El Agha said: "We are here today to say no to corruption, no to garbage.
"Garbage is everywhere, health problems are everywhere. We have enough problems, this should not be a problem anymore. We should solve this. Let's wake up, wake up guys, wake up."
It is reported that temporary rubbish dumps have now been found, which authorities hope to start using on Sunday.
And further meetings are planned next week to try to find a permanent solution.