Turkey 'bombs PKK' in Iraq as well as ISIL in Syria
Comments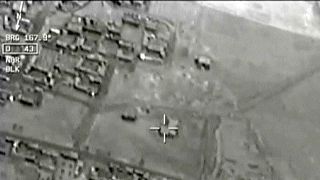 Turkey is reported to have launched attacks on Kurdish militant bases in northern Iraq – on top of its first strikes against ISIL in Syria.
Several local agencies say Turkish jets targeted PKK camps.
Turkish jets simultaneously target PKK bases in Northern Iraq euronews</a></p>&mdash; Bora Bayraktar (Bora_Bayraktar) July 24, 2015
#BREAKING#StopTerorristTurky Turkish warplanes are striking #PKK bases near Amedi in #Kurdistan Its #TrickTurkeypic.twitter.com/LXtkhD7Zzz

— Peshmerga (@KURDISTAN_ARMY) July 24, 2015
If confirmed, it is likely to mark a major blow to the already-stalled peace process with the Kurds.
Turkey has also agreed to allow the US to use a key airbase to stage attacks against the self-styled Islamic State.
Previously Ankara has been a reluctant partner against ISIL but now says
Damascus is neither willing nor able to tackle the jihadists.
Press Release Concerning #Turkey-#US Understanding On Countering #DEASHhttp://t.co/iPmVofJjSW

— Turkish

MFA

(@MFATurkey) July 24, 2015
Turkish President Recep Tayyip Erdogan said there was a need to fight Kurdish separatists and the Islamists.
"We are in a different struggle from now on. We will do whatever is needed in this struggle. Our nation should trust their state," he said.
His comments come amid an escalation of violence along the border.
The suspected ISIL bombing of a Kurdish border town which killed more than 30 people brought protests and clashes between demonstrators and police in Istanbul on Friday.
Turkey's Kurds believe the government has not done enough to protect their community from jihadist violence.
Police have arrested 297 people in raids across Turkey targeting the alleged supporters of militant groups, including ISIL.
Youth members of the outlawed Kurdistan Workers' Party, or PKK, and of a far-left group were also detained.
Erdogan's critics say he is fearful that Kurdish gains against ISIL in Syria's civil war may embolden Turkey's own large Kurdish minority.