Africa is on the move, says Obama in Kenya
Comments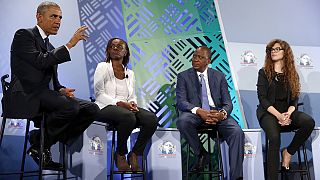 US President Barack Obama has kicked off the first full day of his visit to Kenya by praising the entrepreneurial spirit of Africa's Silicon Savannah.
Speaking at a summit in Nairobi he told entrepreneurs their work offered an alternative to ideologies of violence and could help push back corruption.
"I wanted to be here because Africa is on the move. Africa is one of the fastest growing regions in the world. People are being lifted out of poverty, incomes are up, the middle class is growing, and young people like you are harnessing technology to change the way Africa is doing businesses, President Kenyatta alluded, alluded to. And that creates incredible opportunities for Africans and for the world."
In the first visit to his father's homeland since becoming president, Obama is keen to focus on business ties with Africa after China overtook the US as the continent's biggest trade partner five years ago.
However, the American leader is also expected to address security issues. Kenya has been hit by a wave of attacks by Islamist extremists al Shabaab.
Later on Obama will attend a memorial to the 1998 al-Qaeda bombing of the US embassy in Nairobi.
Kenya: Obama to visit Al Qaeda bomb blast site, four years after killing Osama: US President Barack Obama is S… http://t.co/DklwMJbsqs

— Nairobi Star (@nairobistar) July 25, 2015