Turkey: a change of heart about IS?
Comments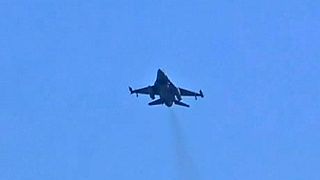 The fighter jets continue to take off.
It is clear Turkey plans to pursue its campaign against the self-titled group Islamic State.
As well as launching air strikes against militant targets in Syria, Ankara says it will allow the US to use a key airbase at Incirlik to launch attacks.
It comes after an escalation of violence along the border. A suicide bombing in the town of Suruç on Tuesday killed 32 people and injured scores more. It has been followed by tit-for-tat killings of police officers, soldiers and suspected militants throughout the week.
For Turkey's president, this is a process, not a one-off. "Our state and government will take the necessary action against attacks of any kind," Recep Tayyip Erdogan told reporters. "This is not just about recent events. We will take all the necessary precautions for our nation's peace and security. Last night was the beginning. We will continue in the same way."
This week's events appear to have led to a change of heart. Ankara has so far been reluctant to get involved in the fight against IS.
Turkey allows U.S. warplanes to use its base for airstrikes against Islamic State http://t.co/pMevTxzwWnpic.twitter.com/hJb5915JIG

— Los Angeles Times (@latimes) 24 Juillet 2015
Crackdown on suspected militants
Observers predicted a crackdown on suspected militants inside Turkey in the wake of the week's atrocities and this also has come to pass. Police have arrested almost 300 people in raids across the country targeting the alleged supporters of militant groups, including IS.
Youth members of the outlawed Kurdistan Workers' Party, or PKK, and of a far-left group were also detained.