EU must act over shock study on diesel fume deaths - campaigners
Comments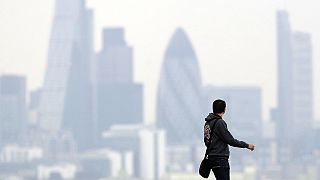 Europe's new air pollution targets should be tightened further, campaigners have urged, after a groundbreaking study on the deadly impact of diesel fumes.
London claims it is the first city in the world to quantify deaths linked to nitrogen dioxide, produced in large quantities by diesel vehicles.
Mayor Boris Johnson published a study that estimates 5,900 city deaths in 2010 were linked to nitrogen dioxide, much higher than earlier feared.
It means an estimated 9,400 deaths in the UK capital for that year, or one-in-five of total deaths, can be linked to long-term exposure to air pollution.
"These estimates will send shockwaves around the world," said Simon Birkett, founder of Clean Air London. "It's hard to grasp the scale of a public health problem that is responsible for… one in five of all deaths. There can no longer be any doubt – air pollution affects us all and the vulnerable the most.
"Regrettably, it is likely that similar numbers, when calculated, will shock other European cities given the scale of the diesel problem in our cities."
The European Parliament will consider proposals to tighten laws governing air pollution limits, including legally-binding targets by 2025, in the autumn.
Mr Birkett has joined other campaigners in calling for the basis for these proposals – referred to in Brussels as the National Emissions Ceilings Directive (NECD) – to be reassessed.
He said: "The European Commission should update the Impact Assessment for its 2013 Clean Air Policy Package, using similar methodology to London, so negotiations about the National Emissions Ceilings Directive (NECD) aim higher.
"With air pollution harming everyone and the scale of the risk now looking comparable to smoking, the worst public health risk, it has never been more important that the new NECD hammers emissions against the anvil of air quality laws and World Health Organisation guidelines."
The European Commission says 16 countries are currently not complying with the EU's nitrogen dioxide emission standards. It says legal action has been started against Germany, Spain, France, Italy, Portugal and the UK.
Britain's highest court told the government to take immediate action in April over its breaching of nitrogen dioxide emission levels.
Sébastien Pant, spokesman for the European Environmental Bureau, referring to the report published by London transport chiefs, said: "I think any kind of study like this will increase the pressure on national politicians and it will have been noted by people across the European Union.
"It's the first time that there has been such a study on the number of deaths from nitrogen dioxide.
"This means that the number of premature deaths due to air pollution – which we already suspected – is higher than we thought.
"From an economic point of view we're probably also under-estimating the impact it has in terms of economic productivity, for example people being off work.
"We'd like to see this study translate into political pressure to do something about this at every level, local, national and European."
Marie-Eve Héroux, an expert on air quality at World Health Organisation's European Centre for Environment and Health, said: "Indeed, the evidence on the health effects of nitrogen dioxide has strengthened in recent years. This includes stronger evidence linking long-term exposure to nitrogen dioxide (NO2) with mortality. The international scientific community now considers that there is an effect on health of NO2, which is at least partially independent from the effects of long-term exposure to fine particles (PM2.5).
"However, many scientific studies on this topic are relatively recent, and further work is underway in the UK and elsewhere to better characterise the link between estimated NO2 exposure and several health outcomes."
A spokeswoman for the European Commission said: "The Commission estimated that air pollution in the EU leads to around 400 000 premature deaths every year due to particulate matter and ozone. The London study in question indicates that the health impacts could be substantially higher than estimated to date if the impacts of NO2 were also fully reflected.
"The Commission will keep under review the evidence on health impacts, the outstanding problems including the compliance situation, prospects for achieving policy objectives (both Air Quality standards and National Emission Ceiling Directive reduction commitments), an analysis of the main underlying causes, and highlight relevant links with other policy areas (for instance vehicle emissions control or climate policy). Over time these assessments would provide a solid basis for identifying the need for any further policy measures."