Alitalia strike disrupts the holiday plans of hundreds
Comments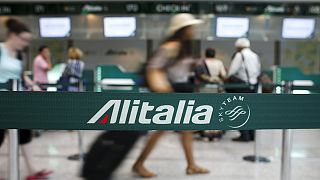 At the height of the holiday season, a strike has hit passengers of the Italian airline Alitalia.
The 24-hour stoppage has forced the company to cancel many flights.
The company says about 15 percent of flights were grounded.
The disruption comes at the start of one of Italy's busiest holiday weekends of the year.
One man at Rome's Fiumicino airport
said: "Unfortunately we had our flight cancelled. Now we have to find where to stay tonight, because our next available flight is tomorrow morning."
Another man said: "We'll just have to wait and see if there's another available flight. They're spoiling my holidays, and since I have just one week off, that's not nice."
Pilots and flight attendants are on strike across the country in a row over pay and conditions.
The level of staffing is one of the sticking points.
The airline strike comes after weeks of industrial action on the Rome metro system.